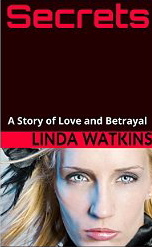 EXCERPT FROM SECRETS:
She was wearing a very short skirt and halter-top that left little to the imagination. Her breasts pushed deliciously against the thin fabric of the halter and the skirt showcased her firm round bottom. Her legs were long, shapely and perfectly tanned.
She smiled and turned her back to him. With one hand she reached up and deftly undid the halter-top. With the other, she held the flimsy fabric up against her breasts to keep it from falling off.
"My shoulder," she whispered. "Look at my shoulder. I just had it done."
In the dim light, Bill had to lean down to look at her. On her shoulder, he saw a small tattoo of a hummingbird. It was exquisitely drawn.
"Very nice, Julie," he said, leaning back again and taking another drink.
In response, she looked over her shoulder at him, smiling seductively. "Isn't it beautiful?  Don't you want to touch it, Bill?  You can, you know. Don't be afraid." was a hint of a challenge in her tone and though he knew he should just get the hell outta there, the combination of the booze and the heat emanating from her body were too much for him. So, he reached out tentatively and brushed her soft shoulder with his fingertips. When she felt his touch, she moaned and seemed to melt backwards towards him, their bodies now just millimeters apart. Unable to resist, he slid his hand from her shoulder, under her armpit until his palm was resting against the exposed side of her warm breast. When she felt his touch, she began to turn towards him, the movement causing her plump breast to literally leap into his hand. Then a sound shattered the moment.
A toilet flushing.
SECRETS is a novelette that serves as a prequel to MATEGUAS ISLAND, giving detail about the two years prior to the Andersens' move to Maine. At the beginning of the story, Karen and Bill are living the "American Dream".  But a foolish indiscretion at a party causes Bill to lose his job and, thus, begins the unraveling of their charmed existence. As their financial condition deteriorates, so does their relationship as Bill, keeping his mistake a secret from Karen, becomes more and more consumed by guilt. Karen knows he's holding back something and her anger at his refusal to reveal it to her, heightens the discord between them.
Finally, in danger of losing their home and with her marriage crumbling around her, Karen finds she must make a choice and, by doing so, has her own little secret – a secret that could eventually destroy her.
SECRETS has been published as an eBook exclusively at  www.amazon.com.