The Mateguas Island Series
MATEGUAS ISLAND

 
 The MATEGUAS ISLAND Series
BOOK #1:  Mateguas Island, A Novel of Terror and Suspense

On a remote island, a troubled young family is trying to pick up the pieces of their shattered lives and start over. But unbeknownst to them, the property they have inherited is steeped in ancient Native American magic – magic that could seek to consume and destroy them.
 An arcane locked box, a strange and foreboding trail into the woods, a seductive young woman, and tales of a malevolent Native American spirit are just some of the perils Karen Andersen must face in order to find a way to save her family.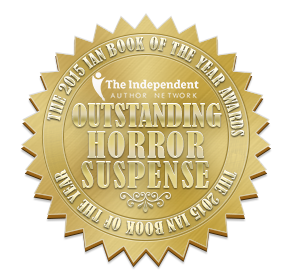 MATEGUAS ISLAND has been the recipient of several major awards, including:
2014 Gold Medal in Fiction-Supernatural, Readers' Favorite International Book Award Competition
2014 First Place in Contemporary Gothic Fiction, awarded by Chanticleer Book Review's Paranormal Awards
2015 Outstanding Novel in Horror/Suspense" by the Independent Author Network's BOOK OF THE YEAR AWARDS

BOOK #2:  Return to Mateguas Island, A Tale of Supernatural Suspense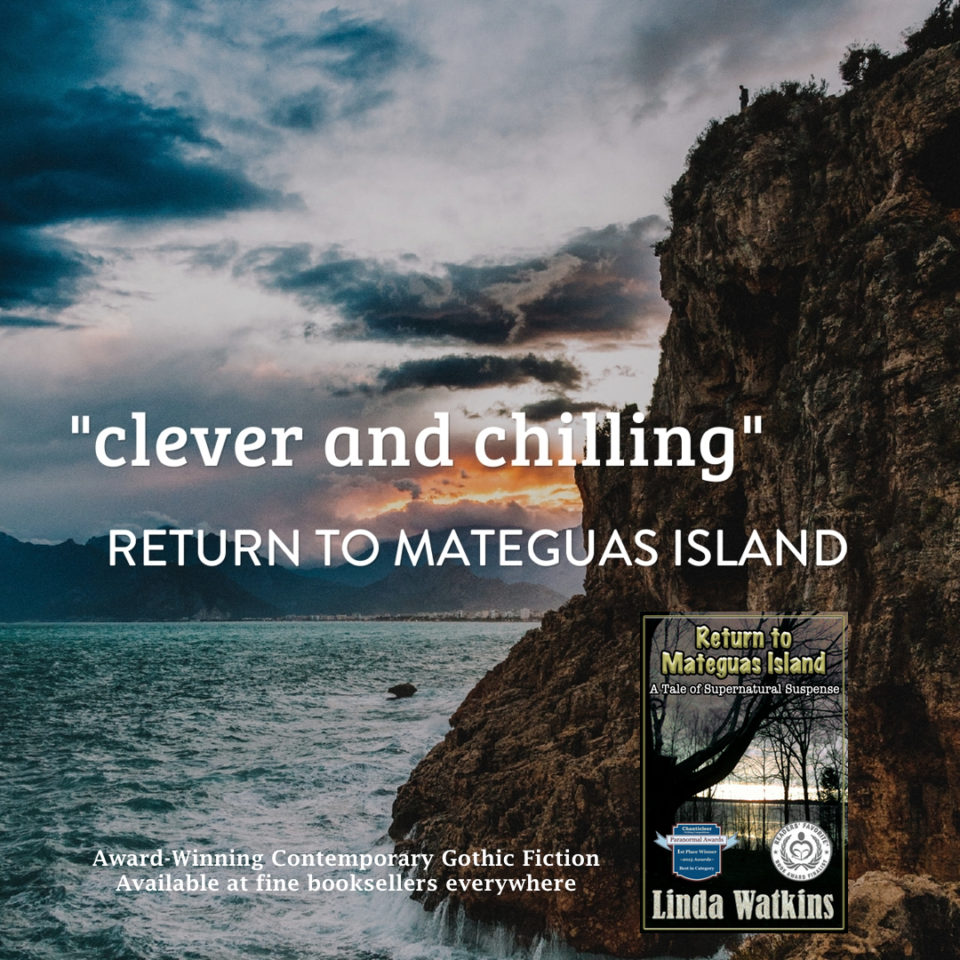 A young woman, searching for answers…
A man, trying desperately to remember what he has forgotten…
What secrets lie buried?
Come back … back to the mythos, passion, and magic…
RETURN TO MATEGUAS ISLAND
2015 First Place in Contemporary Gothic Fiction, awarded by Chanticleer Book Review's Paranormal Awards
2014 Finalist in Horror,  Readers' Favorite International Book Award Competition
"Fans of Watkins's MATEGUAS ISLAND will welcome this solid sequel…Watkins smoothly integrates the paranormal with a complex family drama." ~ PUBLISHERS WEEKLY
"This is a quick-paced story portraying a wide range of human emotions, deadly supernatural forces and ancient Native American beliefs that may help the characters survive the ordeal in store. It explores the depths of love and loss, dedication and defiance, innocence and desire – all in spite of the threat of losing everything. This is supernatural fiction at its best with a hint of coming-of-age enlightenment to appeal to younger readers as well as readers of all ages." ~ Melinda Hills for READERS' FAVORITE
"The real power in Return To Mateguas Island lies not so much in its inclusion of supernatural rituals as in its exploration of simmering emotions that lay just under the surface…Thus, its power and strength are most evident in its explorations of interpersonal relationships…the supernatural force described serves as a catalyst for events; not the end-all of these explorations. And it's the centrifuge of a whirlwind of emotional forces that swirl around all involved in the backdrop that is Mategaus Island and its mystical heritage … the compelling draw of the island and its mysteries create suitable devices for a novel that excels in emotional interconnections with a dash of supernatural suspense added in for good measure." ~ D. Donovan, eBook Reviewer, MIDWEST BOOK REVIEW
"The use of lore and characters from Native American tribes is rendered beautifully, with the honor and respect so often overlooked in contemporary books …Though it's the second in a trilogy, this tale has a satisfying beginning, middle, and end—a journey readers won't soon forget and one they will want to continue until all their questions are answered" ~ Julie York for InD'Tale Magazine, February 2016.
BOOK 3:  Ghosts of Mateguas, A Mateguas Island Novel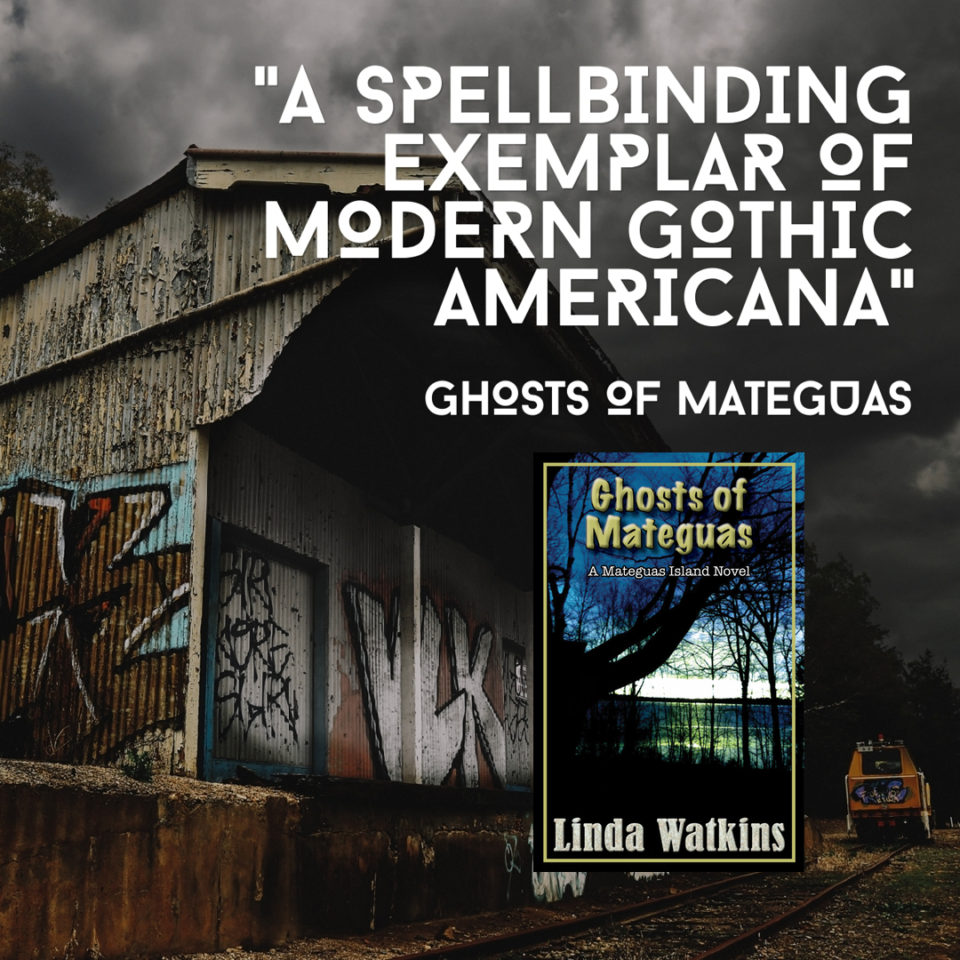 The body of a young girl, found floating in the icy waters of Scarborough Marsh…
 

Six men, over a span of thirty-five years, disappear without a trace…
And a harbinger of evil, so ancient it defies memory, surfaces on the rocky shores of Mateguas…
 

Journey, with Karen and her family, back to the mythos, passion, and magic, and join her as she seeks to finally lay to rest the…
GHOSTS OF MATEGUAS!
Praise for GHOSTS OF MATEGUAS:
"A vivid and poetic read that beautifully channels modern supernatural melodrama. It's not just the deeply sympathetic characterization or the captivating plot that makes the read so engaging, but also the evocative setting. Anyone looking for something different along the lines of Shirley Jackson or Stephen King, your prayers have been answered. Ghosts of Mateguas stands as a spellbinding exemplar of modern Gothic Americana." ~ Self-Publishing Review, 4 Stars
"Ghosts of Mateguas offers a compelling saga of grief, guilt, and perseverance that deftly combines suspense with supernatural intrigue.Prior fans of the series, especially, will find the further interactions between the characters to be engrossing and satisfying, staying true to prior events while adding deeper insights and tension and intrigue to the mix and adding a dose of revelations and truths that draw together prior events in a satisfying new story just as well-crafted as its predecessors ." ~ Diane Donovan, Senior Reviewer, MIDWEST BOOK REVIEW
"Linda Watkins' supernatural suspense novel, Ghosts of Mateguas:  A Mateguas Island Novel, is dark, fast-paced and intense …I had a grand time reading Ghosts of Mateguas and hope the author decides to write a fourth book in this terrifying and suspenseful series. It's most highly  recommended." ~ Jack Magnus for READERS' FAVORITE (5-Star Review)
"The story is fast paced; the suspense is so skillfully built into the story to have the reader turning the pages, and the characters are solid enough that any reader will care about what happens to them. One would say that Ghosts of Mateguas comes with a spell that makes the book impossible to put down. Beautifully written by a writer of a rare caliber." ~ Romuald Dzemo for READERS' FAVORITE (5-Star Review)
"I found Ghosts of Mateguas to be a quick-paced psychological thriller/horror story. The various stories that made up the tapestry of the whole were equally engaging, and kept me turning the pages. If you enjoy books similar to Stephen King and Dean Koontz, be sure to checkout the Mateguas Island books!" ~ J. Aislynn d'Merricksson for READERS FAVORITE (5-Star Review)
AND THE PREQUEL



Book 4:  SECRETS, A STORY OF LOVE AND BETRAYAL
Karen and Bill Andersen are living the "American Dream". Beautiful and successful they seem to have everything until a foolish indiscretion on Bill's part results in the loss of his job. Thus, begins the unraveling of their charmed existence. As their financial condition deteriorates, so does their relationship and Bill, keeping his misdeed a secret from Karen, becomes more and more consumed by guilt. Karen intuiting that he's hiding something from her, becomes angry and bitter as the discord in the family escalates. In danger of losing their home and with her marriage crumbling around her, Karen must make a choice and, by doing so, has her own little secret – a secret that could eventually destroy them all.
SECRETS is the prequel to MATEGUAS ISLAND, A Novel of Terror & Suspense, available as an eBook, Amazon.com